The Garda cycle ring will be a unique work worldwide, over 140 kilometers long, which forms the Garda Cycle Route, integrated and connected with other important cycling routes.
The Gardesana cycle path will connect Capo Reamol to Limone, on the border with Trentino Alto Adige, along the Strada Statale 45bis Gardesana with some stunning overhanging passages and a veritable catwalk overlooking the lake.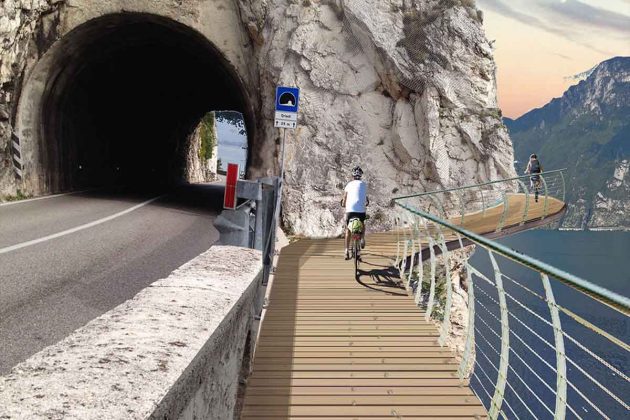 Antonio Martinelli, councilor for public works, interviewed by SiViaggia , commented a few months ago: "You will have the feeling of 'walking' on a bicycle on the water. There will be some wonderful panoramic points, such as Capo Reamol and the border point between the provinces of Brescia and Trento, with promontories from where you can admire the whole lake " . The end of the cycle path coincides with the war memorial of the First World War.
In addition to giving tourists a breathtaking view , the new cycle-pedestrian path is also beautiful to look at: the flooring was made of wood-like material, but weatherproof, and along the entire stretch runs a very thin protective steel barrier which has less visual impact on the landscape. The steel beams that support it are anchored directly to the overhanging rocks, to the parapet or over the water.
They had been talking about the construction of a cycle path that covered the entire circumnavigation of Lake Garda, combining the Trentino shore with that of Verona and Brescia in a single itinerary of 140 km dedicated to cycle tourism.
Over the years, some cycle paths had already been completed and opened to cyclists, such as the one between Torbole and Riva del Garda, where it joins the cycle path of the Valle dei Laghi towards Salò.
The 'Garda by Bike' cycle path will be connected with the Ciclovia del Sole and the Ciclovia Vento (the cycling cycle route of the Po). Once finished, it will offer a long-distance network on a national scale over a thousand kilometers long .
The Lake Garda is one of the havens for cyclists in Europe, especially for visitors from Germany, Austria and those from northern Europe who each year reach the area by the thousands to enjoy the mild climate and the numerous services dedicated just to those who spend their days by bike.